Kubu Raya -West Kalimantan, 17 March 2015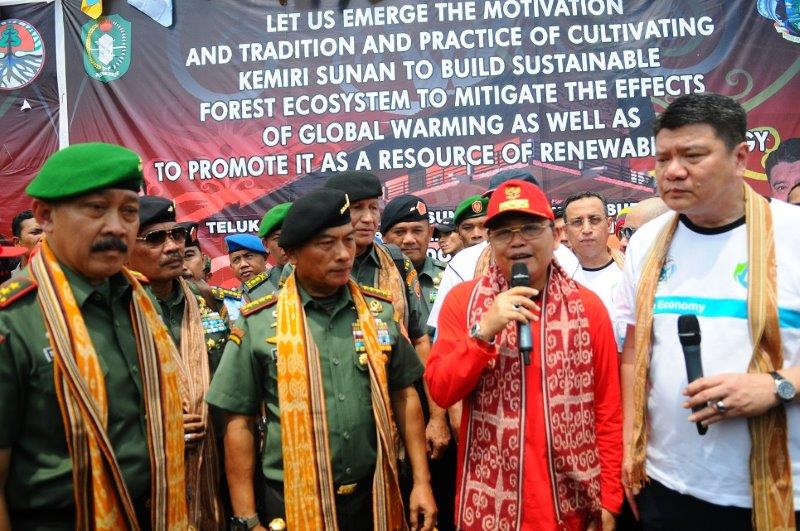 R20 Asia Pacific introduced a conservation program in the tropical rain forest of Indonesia at the heart of Borneo, West Kalimantan to build sustainable forest ecosystem to mitigate the effects of global warming as well as to promote it as resource of renewable energy.
The program was launched together with Governor Mr. Cornelis of West Kalimantan Province and the General Moeldoko Commander in Chief of Indonesian National Defense Forces (TNI) together with 40 Foreign Ambassadors to Indonesia. The mass planting of kemiri sunan (candle nut) tree is a newly adopted conservation program following the recent research and development undertaken by Ministry of Agriculture and Ministry of Energy of Indonesia, and produce biofuel.

The candlenut biofuel project is a collaborative initiative by R20 Indonesia together with the Ministry of Environment & Forestry and the Ministry of Energy & Mineral Resources of Indonesia.
The R20 model for the candlenut program is suitable for the region. Since candlenut cultivation does not require land clearing, the existing 9 million Ha of forest will be preserved. The program will also be beneficial for the local economy as labour will be needed to tend to the plantations", said Governor Cornelis of West Kalimatan.
Governor Cornelis added that he would allocate a total of 120,000 Ha of land spread over 12 kabupaten (regencies) to the program. According to the technical assessment, said Nico Barito (Director of R20 Asia Pacific), one hectare will produce 85 barrels of biodiesel a year. "We are looking at 10.2M barrels of biodiesel per annum over the next 10 years and onwards."